MIRADRY
Is miraDry Right For Me?
If you are bothered by your sweat and are seeking a long-lasting solution, then miraDry® is for you. Imagine being free from the embarrassment, discomfort, and worry of wet underarms. Think about all the times you won't have to worry about whether or not your antiperspirant is going to fail you, or if your shirt will show wet marks when you take off your jacket. When you put your luggage in the overhead bin, will everyone see sweat marks? When you're out for the day and don't have time to shower before going out at night, will you feel confident that you're at your best? Now you won't have to worry about underarm sweat anymore. With miraDry you will feel clean, confident, and carefree.
How miraDry Works
The miraDry ® system uses energy that targets and destroys the sweat and odor glands in your underarm. Once those glands are destroyed they do not grow back—so once they are gone, they are gone for good.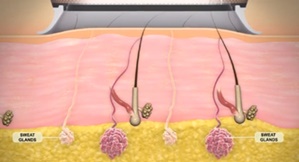 After your underarm has been numbed, the clinician will place the handpiece directly on your skin While aligning the treatment template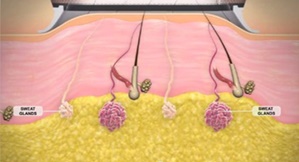 Next, the handpiece is activated. You will feel a slight suction as your skin and glands are brought closer to the surface for maximum results.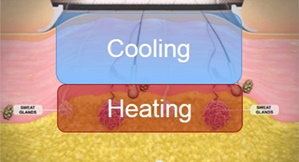 Finally, Thermal Energy is delivered and the sweat and odor glands are destroyed. All the while, soothing cooling is applied to protect your skin.
What To Expect:
Until now, managing your underarm issues and the negative impact on your body, clothing, and self-confidence has been messy, time consuming, and costly. Now there is a solution!

miraDry ® is the first and only non-surgical treatment to permanently reduce your underarm sweat, odor, and hair. The miraDry treatment is FDA-cleared. Over 100,000 procedures have been done with amazing results. Bahr Dermatology is your local miraDry expert in Bountiful, Utah. It is done in the comfort of our office and is quick, comfortable and permanent. It only takes about one hour. After your treatment, you can expect to see immediate and lasting results.